A De Zeven Advent Calendar Just For You
Posted on Tue December 1, 2020.
The advent calendars, Michael Bublé, and festive fanfare have all reminded us that Christmas was coming for the last three months, but in the Banhoek Valley we're releasing our advent calendar today. Instead of opening thin chocolates leading up to Christmas Day, we're offering far more tempting and indulgent treats in and around De Zeven. So even if you aren't currently with us, these are the things you can look forward to 'opening' during your stay.
1. Picnic at De Zeven
We've built a special picnic spot high above De Zeven where you can sit in the company of the toppling mountains or underneath the full moon while feasting on a generously-packed picnic basket.
2. Taste Erika Obermeyer's Wine at De Zeven
Taste Erika O's wines and meet the woman who calls De Zeven her tasting room home. Erika certainly inspires, both with her life story and wine philosophy, and you'll find yourself hanging onto her every word and sip of wine. Find out more about this incredible local Banhoek resident by reading our blog, "Erika O How You Inspire."
Photo credits: erikaobermeyer_wines (Instagram)
3. Watch Movies in Our Cinema Room
Whether it's a rainy day, romantic date, or the excitement of a movie night, we have the perfect space for an authentic cinematic experience - but with all your home comforts.
4. Take a Dip in the Pool
Our pool is idyllic and possibly the most tempting place to be during the summer months, which is why we don't blame our guests for choosing to spend their days poolside.
5. Exotic Cocktails
No poolside tanning session is complete without a fresh cocktail in hand - especially after the year of indoor anxiety we've all had.
Photo credits: king.mnich (Instagram.)
6. Hiking Routes Galore
The best time to set out on a hike would be early morning, before the summer's heat bakes the Banhoek Valley. We are truly spoilt for choice when it comes to trails, so whether you're a fitness fanatic or just looking for a leisurely stroll, there are inclines - and declines - to suit your ability.
7. Pack a Few Books
Claim one of our many hidden spots and become engrossed in a holiday read where page numbers no longer are taken into consideration, and time becomes irrelevant as you read late into the afternoon.
8. Wine Tasting at Bartinney
We have the very best - and most convenient of neighbours. Situated just a short walk up through the vineyards, Bartinney's Tasting Shed offers sustainably produced and delicious wines. For those partial to a full-bodied, buttery Chardonnay, you may strike up a love affair with the Bartinney Chardonnay 2018 - don't say we didn't warn you.
9. Gin Tasting at Bartinney
For those who'd skip the wine and sip a G&T instead, Bartinney is famous for its Gin Experiences. Here, guests are treated to an informative tasting of the Tempest Gin range - inspired by the seasons and infused with local botanicals and fynbos. Find out more about Bartinney's Tempest Gin in our blog here.
10. Enjoy a Light Lunch at Tokara Delicatessen
Get a taste of the local's favourite on the top of Helshoogte Pass at Tokara Delicatessen. This family-friendly eatery sells only the freshest produce, delicious meals, and award-winning olive oils and wines.
Photo credits: Tokara Restaurant & Deli,  @eatokara (Instagram)
11. Mountain Biking Route
After all this talk about wine, G&T, and food, you'll probably feel the need to ride through the Banhoek Valley. Much like the hiking routes, there are routes for every skill level and once-in-a-lifetime scenic photo opportunities just like these.
12. Drink Limoenkloof wine
On your return, treat yourself to a glass of our house wine. Limoenkloof is made in the heart of the Banhoek Valley exclusively for De Zeven. Its easy-drinking and crisp tasting notes make it a firm favourite with our guests.
13. Finely Dine at Delaire Graff
For a special occasion, have us arrange a fine-dining treat at Delaire Graff, situated just 2-minutes up the road. Chef Kayla-Ann recently took over as the Head Chef, and her dishes certainly will please even the fussiest of palates. Read our November blog on Chef Kayla-Ann's food philosophy and experience here: "Delaire Graff's Latest Jewel: Chef Kayla-Ann Osborn."
Photo credits: Delaire Graff Estate, @delairegraff (Instagram)
14. Some TLC at De Zeven
Our mountains are therapeutic, our pool relaxing, and our staff will put you at ease, but sometimes what you really need is a spa treatment overlooking the Banhoek Valley, where a massage exfoliates life's daily stressors away.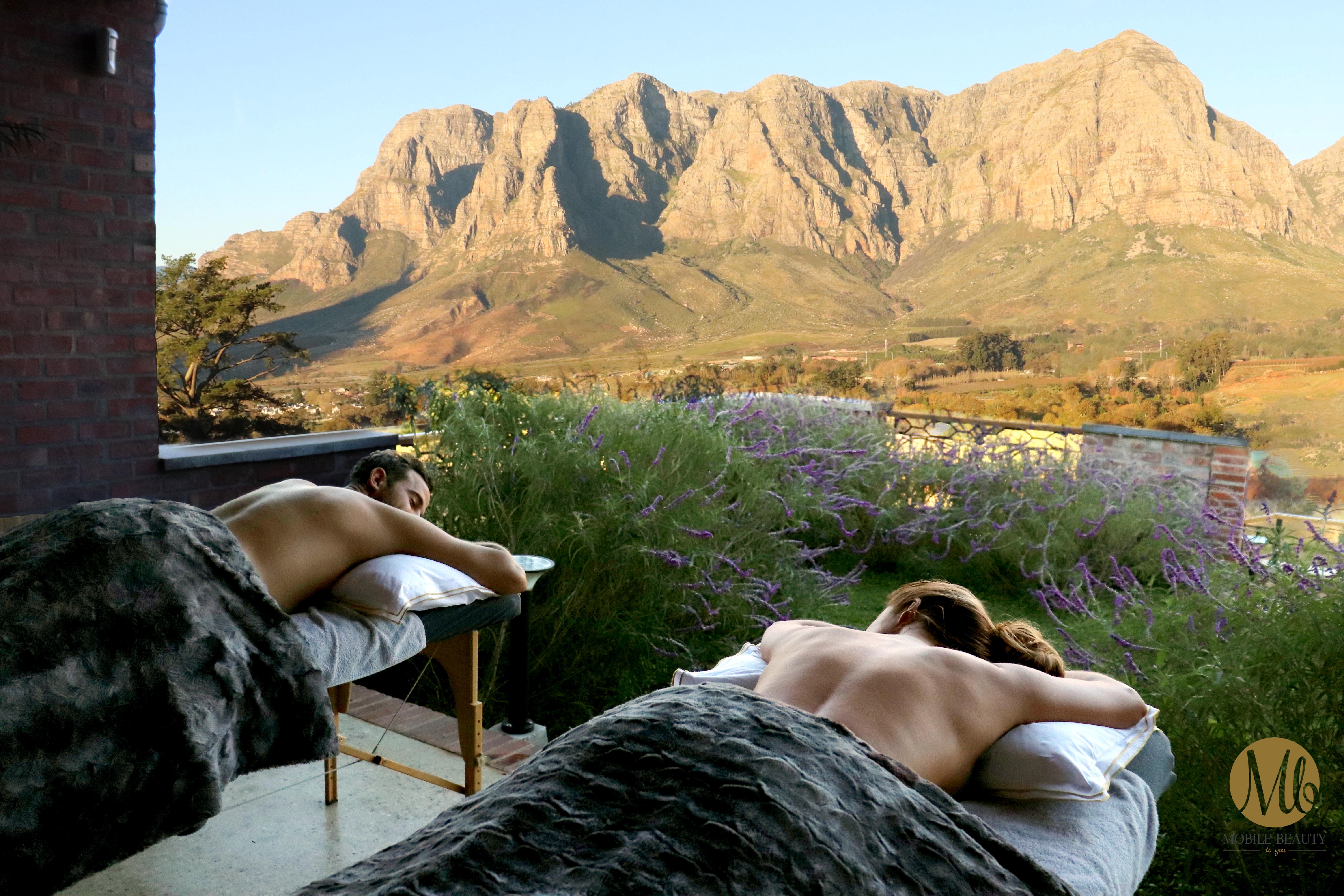 15. Hillcrest Berry Orchards
A drive through the Banhoek Valley is never complete without a stop at Hillcrest Berry Farm. Here you'll find freshly baked pastries and the most delicious scones with clotted cream and jams - just as you'd enjoy them along the Devonshire coast. You'll be amazed by how many different types of jam you can choose from, and if you're anything like us, you'll keep going back to the trusty old strawberry jam. 
Photo credits: Hillcrest Berry Orchards, (Facebook)
16. Art at Delaire Graff
If you're in search of seeing impressive Dylan Lewis sculptures, perfectly manicured gardens, and Tretchikoff's original Chinese Girl, then Delaire Graff is where you need to visit.
Photo credits: Delaire Graff Estate, @delairegraff (Instagram)
17. Oldenburg Vineyards
Unlike the other wine farms mentioned, Oldenburg has a different aesthetic and overall feel with its thatch ceiling and modern African interior. At the heart of the farm lies its iconic Rondekop. This is where vineyards were planted not too long ago and where the unique terroir has certainly influenced all of the wines produced from these blocks.
Photo credits: Oldenburg Vineyards, @oldenburgwines (Instagram)
18. Boschendal Market
Ask any Stellenbosh local, and they'll tell you that the Boschendal Market is the place to be during the summer months. It's packed with fresh vegetables, local wines, craft beers, and hearty food stalls with passionate vendors.
Photo credits: Boschendal, @Boschendal (Instagram)
19. Fresh Breakfast at De Zeven
During your stay, you will enjoy a fresh breakfast every morning. Still, we'd recommend that you take in the surrounding vistas with every bite, as few places in the world can compete with the beauty of the Banhoek Valley.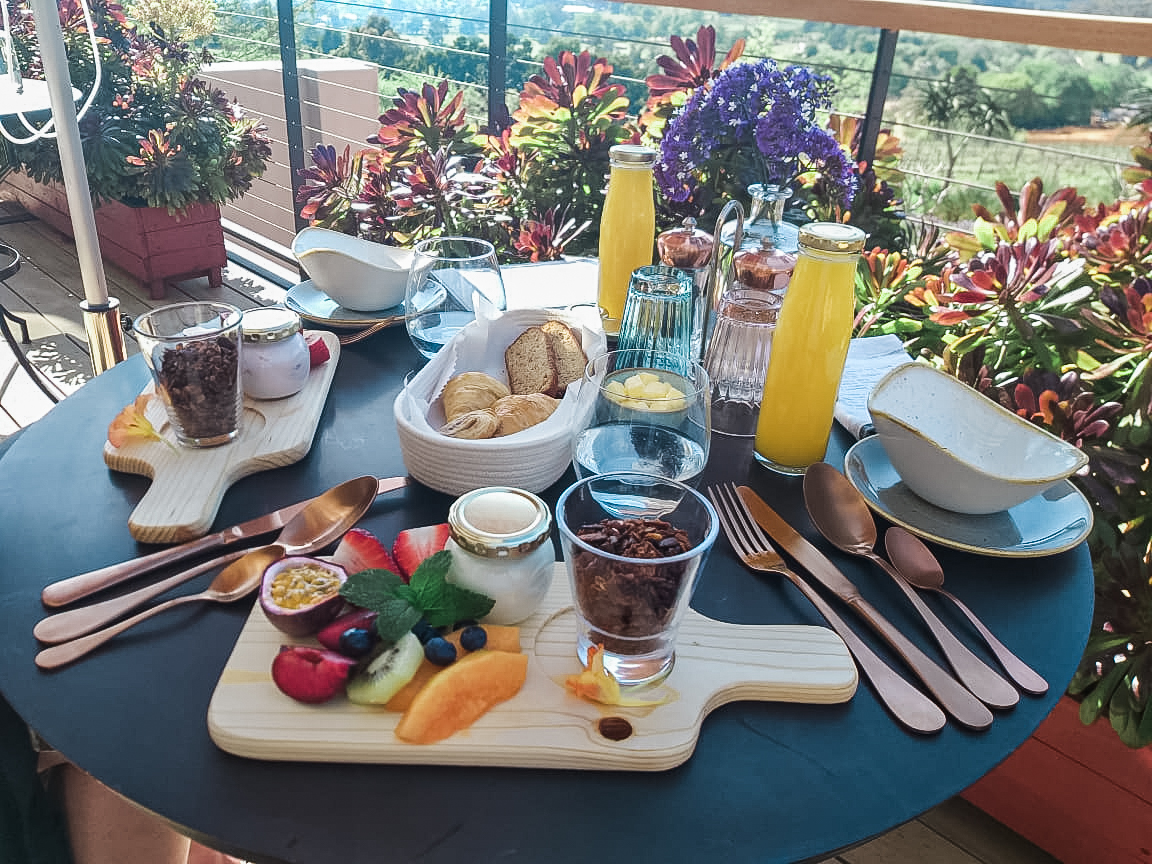 20. Sauna Room at De Zeven.
With all the challenges faced this year, a sauna session could offer the "reset" your body needs by getting rid of all toxins and stress.
21. Proteas Welcome You
Admiration can go a far way in the eyes of nature, so stop at the entrance of De Zeven and appreciate the majesty of the fynbos and Protea farm. Find out more about Proteas in our blog, "The Protea: The Flower of the Season and the People."
22. Yoga at De Zeven
Yoga at De Zeven is for anyone to try. While we don't have any classes or instructors, we invite you to explore yoga at your own pace and set up your mat wherever you please. Become mindful and connect body, soul, and mind with the atmosphere of the Banhoek Valley.
Photo credits: @cleaffpt (Instagram)
23. Walk Through Healing Gardens
Heal all that is broken by walking through the majestic and sensory gardens of De Zeven. This can be done to rediscover yourself, reconnect, or just to relax.
24. Tokara's Olive Oil 
There is probably plenty of olive oil being tossed into pans, roasting pots, and salads with Christmas Day tomorrow, so we'd suggest visiting Tokara and discovering their award-winning olive oils.
Photo credits: Tokara Restaurant & Deli, @eatokara (Instagram)
25. Christmas Day
From our family to yours, we wish you a Happy Christmas. May today's activity include plenty of meaningful conversations, poured wine, family recipes - and kitchen successes - and memories that will lift the spirits of 2020.